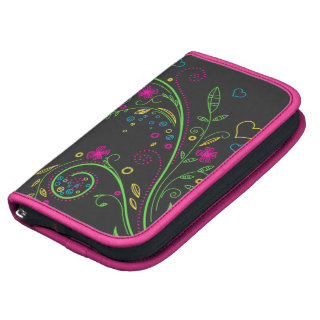 Funky Neon Chalkboard Floral Rickshaw Folio Planner
$60.30 per customizable Rickshaw Bags® Smartphone folio planner.
Fit smartphones (large smartphone size only), pens, highlighters, passport, and a Moleskine Journal.
Manufactured in the US.
Full color vibrant digital printing.
About the Design
You can personalize the name on this funky neon pink, green, yellow, and blue neon chalkboard look floral Rickshaw smartphone zippered folio. To change the name on this girly design, use the personalize option. To customize portions of the design, includi
---
About Zazzle's Custom Rickshaw Bags® Smartphone Folio Planners
Rickshaw Bags® Smartphone folio planners are made with rugged 100% Cordura® nylon. These folios have pockets for smartphones (large smartphone size only), pens, highlighters, passport, money, ID, and journal. It's a great handy product for organizing your busy day and works really well for travel.
Choose your size. Large smartphone folio size fits iPhone, Android, Blackberry and other Smartphones and large Moleskine journal; Small Folio fits small Moleskine journal. Prices vary with size choosen.
Water resistant, extra durable construction.
Fully handmade in the USA.
Secure zip pocket for personal items; Interior pockets for pens and highlighters.
Option to purchase the moleskin journal that fits perfectly with this folio.
Choose from a variety of binding and liner colors.
Small size: 7.5" H x 4.75" W x 1.25" D & Large smartphone size: 9.75" H x 6" W x 1" D.
Note: Zazzle Rickshaw Bags® folios are manufactured on demand. Therefore, manufacturing times are longer. Please allow 10-21 business days for manufacturing. *Shipping estimates will vary depending on the shipping method selected at checkout, and are not included in the manufacturing turnaround times posted.
Zazzle Rickshaw Bags® folios are manufactured, printed, and shipped in the US, even if ordered off of international sites. Please allow sufficient time for international shipping.
Here are two images of the inside of the large folio planner. Additional product views can be seen on the Zazzle site.
---
Note: All designs are flat printed designs without any 3D or raised embellishments.

If you would like changes to a design, would like a design on another product, or are having trouble customizing a product, please click on "About" -> "Contact Us" and send us a message through the contact us form on this website.
Shop Categories | Electronics and Accessories | Folio Planners
Keywords: folio planners
Product ID: 201273161682781500
---
While we make every effort to provide you with the most accurate, up-to-date pricing information on Wasootch, occasionally, one or more of our items may be mis-priced from what the price is on Zazzle.
Please note that the price as shown on Zazzle is the accurate price.