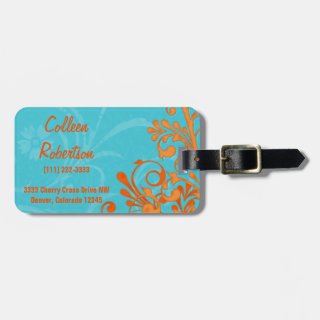 Aqua Blue Orange Abstract Floral Personalized Bag Luggage Tags
$9.50 per customizable luggage tag.
Custom personalized baggage tag.
Full color, two sided printing.
Made of ultra-durable acrylic.
Leather luggage strap included.
About the Design
You can personalize the name and address on this bright and cheerful orange and turquoise or aqua blue abstract floral personalized luggage tag. To change the name and address, use the tools on the Zazzle website. A chic and stylish luggage tag for women and girls.
---
About Zazzle's Custom Luggage Tags
Size 2" x 3.5" (business card size).
Leather luggage strap included.
UV resistant and waterproof.
Made of ultra-durable acrylic.
AcryliPrint®HD vibrant full color two sided printing process.
To see additional views, click on the image above to view the product on Zazzle.
Please allow 10 to 14 business days for production, plus any additional shipping days. Shipping times vary by shipping method chosen.
Zazzle luggage tags are printed and shipped in the US, even if ordered off of international sites. Please allow sufficient time for international shipping.
---
Note: All designs are flat printed designs without any 3D or raised embellishments.

If you would like changes to a design, would like a design on another product, or are having trouble customizing a product, please click on "About" -> "Contact Us" and send us a message through the contact us form on this website.
Shop Categories | Gift Shop | On the Go
Keywords: luggage tags
Product ID: 256757482051876210
While we make every effort to provide you with the most accurate, up-to-date pricing information on Wasootch, occasionally, one or more of our items may be mis-priced from what the price is on Zazzle.
Please note that the price as shown on Zazzle is the accurate price.