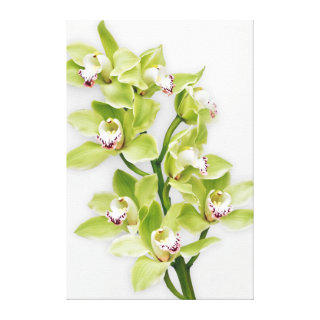 Green Cymbidium Orchid Flower Wrapped Canvas Print
$172.60 per print.
Customizable wrapped canvas print.
Fade-resistant for 100+ years.
Beautiful and vibrant color printing.
About the Design
Beautiful and elegant burgundy and green Cymbidium orchid flower wrapped canvas prints. Orchids are tropical flowers, very popular. The colors in this floral print are burgundy, green, and white. Natural and beautiful.
---
About Zazzle's Custom Wrapped Canvas print.
Zazzle's gloss canvas is made from an additive-free cotton-poly blend and features a special ink-receptive coating that protects the printed surface from cracking when stretched. Made with a tight weave ideal for any photography or fine art, our instant-dry gloss canvas produces prints that are fade-resistant for 100+ years. These turn out wonderful! Truly beautiful canvas prints.
Canvas default sizes can be changed, but please note that images do not necessarily work on all aspect ratios or sizes. Zazzle's site is very much a "what you see is what you get", so if you change the size, you may find that text is cut off or designs are changed in odd ways. This is how they will print, so please keep that in mind.
Some of our images and designs are not meant to be any bigger. Zazzle's system will give a warning if you're attempting to make the canvas too big.
Three frame thicknesses available to choose from. Prices vary with frame thickness. Changing the frame thickness may change the overall look of the design. Again, Zazzle's site is "what you see is what you get".
You can use the Zazzle website to make these into multiple panels (triptych, diptych) or add color effects.
Zazzle's canvas prints are printed and shipped in the US, even if ordered off of international sites. Please allow sufficient time for international shipping.
---
Note: All designs are flat printed designs without any 3D or raised embellishments.

If you would like changes to a design, would like a design on another product, or are having trouble customizing a product, please click on "About" -> "Contact Us" and send us a message through the contact us form on this website.
Other Products You May Like
Shop Categories | Gift Shop | Wasootch Photography
Keywords: wrapped canvas prints
Product ID: 192845209864633306
While we make every effort to provide you with the most accurate, up-to-date pricing information on Wasootch, occasionally, one or more of our items may be mis-priced from what the price is on Zazzle.
Please note that the price as shown on Zazzle is the accurate price.