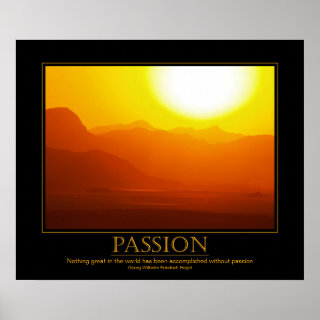 Passion Motivational Desert Sunset Poster
$35.60 per default size poster print.
Add a standard or custom frame.
Choose from 4 different paper types.
Beautiful and vibrant color printing.
Customizable
About the Design
Motivational Poster - Passion: Nothing great in the world has been accomplished without passion. This poster is a photograph of a beautiful and fiery orange and yellow sunset in the Wadi Rum Desert in Jordan. Wadi Rum is one of the world
---
About Zazzle's Custom Poster Prints
Volume Discounts
Buy more and save! Note: Doesn't have to be the same design... get different designs if you want.
| Quantity | Discount |
| --- | --- |
| 4 - 50 posters | 10% off |
| 51 - 100 posters | 15% off |
| 101+ posters | 20% off |
Choose from 4 different paper types: Value Poster Paper (Matte), Poster Paper (Semi-Gloss), Archival Heavyweight Paper (Matte), or Premium Canvas (Matte). Price varies with paper type chosen.
Poster print default sizes can be changed, but please note that images do not necessarily work on all aspect ratios or sizes. Zazzle's site is very much a "what you see is what you get", so if you change the size, you may find that text is cut off or designs are changed in odd ways. This is how they will print, so please keep that in mind.
Some of our images and designs are not meant to be any bigger. Zazzle's system will give a warning if you're attempting to make the canvas too big.
Add a standard frame or custom frame (with or without matte).
Zazzle's poster prints are printed and shipped in the US, even if ordered off of international sites. Please allow sufficient time for international shipping.
---
Note: All designs are flat printed designs without any 3D or raised embellishments.

If you would like changes to a design, would like a design on another product, or are having trouble customizing a product, please click on "About" -> "Contact Us" and send us a message through the contact us form on this website.
Shop Categories | Gift Shop | Wasootch Photography | Jordan
Keywords: posters and prints
Product ID: 228392467687721104
While we make every effort to provide you with the most accurate, up-to-date pricing information on Wasootch, occasionally, one or more of our items may be mis-priced from what the price is on Zazzle.
Please note that the price as shown on Zazzle is the accurate price.