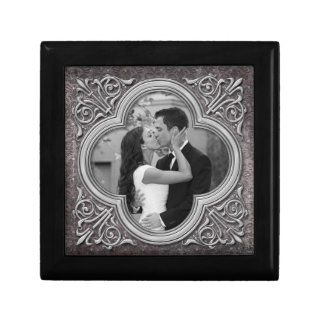 Vintage Ornate Frame Photo Template Jewelry Box
$27.50 per customizable keepsake box.
Two sizes to choose from.
Design printed on white ceramic tile.
Choose from a variety of wood colors.
Full color digital printing.
Personalize the design with your own text or images.
About the Design
You can personalize the photo on this vintage ornate frame photo template jewelry box. Great for a wedding, engagement or family photo. To change the picture, use the personalize it option. To make other changes, including adding text or changing the phot
---
About Zazzle's Custom Keepsake or Jewelry Boxes
Vibrantly printed tile is inlaid into the lid of this beautiful jewelry box. Made of lacquered wood, the jewelry box comes in Golden Oak, Ebony Black, Emerald Green, and Red Mahogany. Soft felt protects your jewelry and collectibles.
Two sizes to choose from: 7.125" or 5.125".
Height is 2.5".
White ceramic tile inlay.
Choose Golden Oak, Ebony Black, Emerald Green, and Red Mahogany.
Please allow 3-7 business days for Gift Box processing.
Zazzle keepsake boxes are printed and shipped in the US, even if ordered off of international sites. Please allow sufficient time for international shipping.
---
Note: All designs are flat printed designs without any 3D or raised embellishments.

If you would like changes to a design, would like a design on another product, or are having trouble customizing a product, please click on "About" -> "Contact Us" and send us a message through the contact us form on this website.
Shop Categories | Gift Shop | Jewelry and Accessories | Photo Template
Keywords: gift and jewelry boxes
Product ID: 246491035793427979
While we make every effort to provide you with the most accurate, up-to-date pricing information on Wasootch, occasionally, one or more of our items may be mis-priced from what the price is on Zazzle.
Please note that the price as shown on Zazzle is the accurate price.