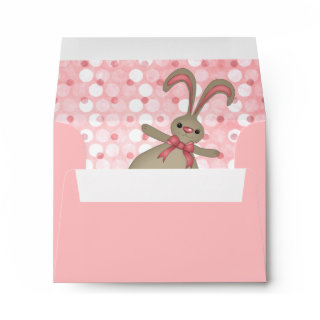 Cute Easter Bunny Rabbit Easter Party Envelopes
$0.95 per customizable envelope.
Customizable return address envelopes.
A2 Note card size envelope.
Choose from five different paper types. Prices vary with paper type chosen.
High quality, full-color, full-bleed printing.
Volume discounts available. See below.
About the Design
This cute Easter bunny rabbit A2 size envelope has a matching Easter party invitation. See below. You can easily customize the return address on the envelopes. To change it use the personalize option. If you have to make more extensive changes to the retu
---
About Zazzle's Custom Envelopes
Envelopes Volume Discounts
Buy more and save! Note: Doesn't have to be the same design... get different designs if you want.
| Quantity | Discount |
| --- | --- |
| 50 - 99 envelopes | 5% off |
| 100 - 249 envelopes | 10% off |
| 250 - 499 envelopes | 15% off |
| 500+ envelopes | 20% off |
A2 Note card size envelope: 5 ¾" W x 4 3/8" H. Fits 5 3/5" x 4 1/4" and smaller invitations and cards.
Choose from basic, felt, speckled, linen, or recycled paper. Prices vary with paper type chosen.
High quality, full-color, full-bleed printing including the inside of the envelope.
Minimum order of 10 envelopes.
Easy to personalize your return address on the envelopes.
Zazzle prints, folds, and glues these envelopes on demand. Please allow 3-4 weeks for envelope manufacturing. *Shipping estimates will vary depending on the shipping method selected at checkout, and are not included in the manufacturing turnaround time posted.
Zazzle envelopes are printed and shipped in the US, even if ordered off of international sites. Please allow sufficient time for international shipping.
---
Note: All designs are flat printed designs without any 3D or raised embellishments.

If you would like changes to a design, would like a design on another product, or are having trouble customizing a product, please click on "About" -> "Contact Us" and send us a message through the contact us form on this website.
Shop Categories | Major Holidays | Easter
Keywords: envelopes
Product ID: 121346242960389040
While we make every effort to provide you with the most accurate, up-to-date pricing information on Wasootch, occasionally, one or more of our items may be mis-priced from what the price is on Zazzle.
Please note that the price as shown on Zazzle is the accurate price.