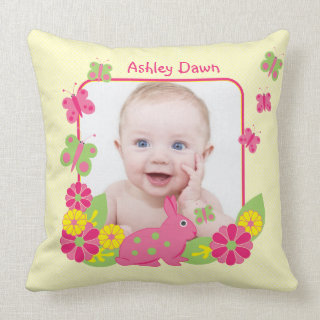 Girl Baby Photo Template Bunny Butterflies Flowers Throw Pillow
$59.95 per customizable throw pillow.
100% grade A woven cotton.
20" x 20" square pillow.
Handmade in the USA by sustainably employed single moms.
Full color vibrant digital printing.
About the Design
Cute baby girl photo template throw pillow! Personalized with your baby
---
About Zazzle's Custom Throw Pillows
American MoJo® custom pillows from Zazzle are manufactured on demand (printed, cut, and sewn) and made of 100% grade A cotton. All American MoJo® products are produced by sustainably employed single moms in the USA. American Mojo® is a wonderful Zazzle partner that is contributing to breaking the cycle of poverty for single moms and their children. American Mojo® provides single moms with good wages, childcare, health insurance, and more!
20" x 20" square pillow..
100% grade A woven cotton. Made from natural fibers, which may result in irregularities.
Handmade in the USA by sustainably employed single moms.
Hidden zipper enclosure; synthetic-filled insert included.
Machine washable
Note: Zazzle throw pillows are made on demand. Therefore, manufacturing times are longer. Please allow 5-21 business days for manufacturing. *Shipping estimates will vary depending on the shipping method selected at checkout, and are not included in the manufacturing turnaround times posted.
Zazzle pillows are manufactured, printed, and shipped in the US, even if ordered off of international sites. Please allow sufficient time for international shipping.
---
Note: All designs are flat printed designs without any 3D or raised embellishments.

If you would like changes to a design, would like a design on another product, or are having trouble customizing a product, please click on "About" -> "Contact Us" and send us a message through the contact us form on this website.
Shop Categories | Photo Templates
Keywords: throw pillows
Product ID: 189538403632176526
While we make every effort to provide you with the most accurate, up-to-date pricing information on Wasootch, occasionally, one or more of our items may be mis-priced from what the price is on Zazzle.
Please note that the price as shown on Zazzle is the accurate price.