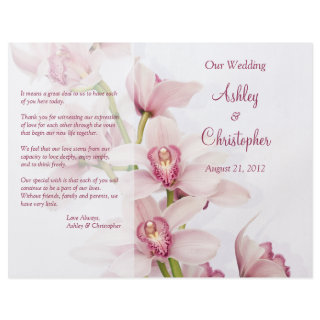 Pink Cymbidium Orchid Floral Foldable Wedding Program
$1.00 per wedding program. Minimum order quantity of 25.
8.5" x 11" foldable wedding programs.
Double sided full color digital printing.
Volume discounts available.
Fully customizable text.
About the Design
Elegant and beautiful pink, green, and white Cymbidium orchid floral wedding program. The text can be personalized using the tools on the Zazzle website. Orchids are tropical flowers that are a popular wedding flower choice for weddings all over the world. This is a soft and romantic pink, green, and white wedding program, that would work well for a spring, summer, or winter wedding. It is recommended this is only purchased as a standard 80lb matte finish. The 100lb paper option is difficult to fold and therefore not recommended.
---
About the Product
Zazzle value foldable wedding programs, menus, and flyers are perfect for your special occasion or advertising needs! Zazzle value wedding programs, menus, and flyers are digitally printed in high quality full-color and full-bleed on two sides. Two sided printing is free! You can see the backside of the product on the Zazzle website. Colors are vibrant and designs are crisp.
Volume Discounts
You don't have to buy multiples of the same wedding programs, menus, and flyers to receive a quantity discount.
You'll receive a quantity discount on any order of 25 or more.
For example, if you purchase 50 programs and 50 matching menus, the volume discount is 20%.
| Quantity | Discount |
| --- | --- |
| 50-99 | 10% off |
| 100-249 | 20% off |
| 250-499 | 30% off |
| 500-999 | 45% off |
| 1000+ | 60% off |
This invitation is , but you can actually customize it to choose from 8 different sizes. Note: Not all designs are proportionally suited to other invitation sizes.
Customizable value foldable wedding programs. These are intended to be folded when you receive them.
Zazzle designs are all flat printed designs without any three dimensional or raised elements.
Zazzle products are printed and shipped in the US, even if ordered off of international sites. Please allow sufficient time for international shipping.
About Zazzle's Value Paper
Zazzle's 80lb text-weight, matte white paper is a good quality paper that is flexible and easy to fold.
Works well for an affordable, no frills, basic wedding program. It also makes a great flyer. We often design them as event flyers as well.
Designs come out vibrant and crisp. The paper is similar in feel to the cover paper on quality magazines and has a bit of a waxy feel to it.
Zazzle's value paper contains 50% recycled content.
---
Note: All designs are flat printed designs without any 3D or raised embellishments.

If you would like changes to a design, would like a design on another product, or are having trouble customizing a product, please click on "About" -> "Contact Us" and send us a message through the contact us form on this website.
Other Products You May Like
Shop Categories | Weddings | Orchids
Keywords: programs
Product ID: 244981166521587783
While we make every effort to provide you with the most accurate, up-to-date pricing information on Wasootch, occasionally, one or more of our items may be mis-priced from what the price is on Zazzle.
Please note that the price as shown on Zazzle is the accurate price.