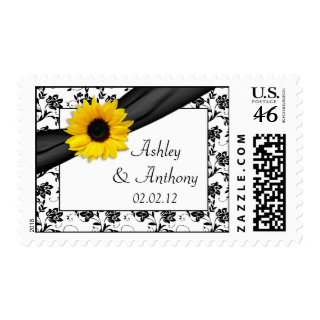 Sunflower Damask Floral Wedding Postage
$22.35 per sheet of 20 stamps.
Customizable personalized wedding postage.
Choose from thirteen postage denominations.
Vibrant full color digital printing.
Volume discounts available. See below.
About the Design
The text on these sunflower black and white damask floral wedding postage stamps is fully customizable. To change it use the personalize option. For more extensive changes to the stamps including changes to the font, font color, font size, or text placeme
---
About Zazzle's Custom US Postage
Postage Volume Discounts
Buy more and save! Note: Doesn't have to be the same design... get different designs if you want.
| Quantity | Discount |
| --- | --- |
| 2 - 10 sheets | $0.50 off |
| 11 - 21 sheets | $1.00 off |
| 22 - 100 sheets | $2.00 off |
| 101+ sheets | $3.00 off |
20 stamps per sheet.
Choose from thirteen postage denominations.
Minimum order of just 1 sheet of 10.
Choose between three sizes: small (1.8" x 1.3"), medium (2.1" x 1.3"), and large (2.5" x 1.5"). Price varies with size.
Zazzle custom postage is only available for US customers.
---
Note: All designs are flat printed designs without any 3D or raised embellishments.

If you would like changes to a design, would like a design on another product, or are having trouble customizing a product, please click on "About" -> "Contact Us" and send us a message through the contact us form on this website.
Shop Categories | Weddings | Sunflowers | Sunflower Black White Damask
Keywords: US postage stamps
Product ID: 172178829325987740
While we make every effort to provide you with the most accurate, up-to-date pricing information on Wasootch, occasionally, one or more of our items may be mis-priced from what the price is on Zazzle.
Please note that the price as shown on Zazzle is the accurate price.